Sharing Infrastructure: Climate Monitoring and Disaster Warning with Telecommunication Cables
Bruce Howe
ITU/WMO/UNESCO-IOC Joint Task Force for SMART Subsea Cables
and
University of Hawaii at Manoa
Climate change is upon us. Nearly every new observation, science finding, and discovery paints a more dire picture, with more rapid, variable, severe and negative changes than previously thought. We must act, and act quickly. In our various communities of research and education, connectivity and communications, and climate observing, what can we do? We can leverage each other's resources, looking for synergies, and specifically sharing infrastructure.
Here we consider the specific case of sharing submarine cable infrastructure that supports telecommunications – with the research and education enterprise a significant stakeholder – to facilitate the acquisition of data for climate monitoring and disaster early warning. This is the SMART (Science Monitoring And Reliable Telecommunications) cable concept: transformative globe-spanning systems that deliver both telecommunications and unprecedented ocean and earth science and environmental data. Such systems will simultaneously satisfy the ever increasing demands for global connectivity (with significant financial resources) and the urgent need for coherent, concerted global efforts on climate change to achieve tangible, social benefits in climate-ocean-earth science.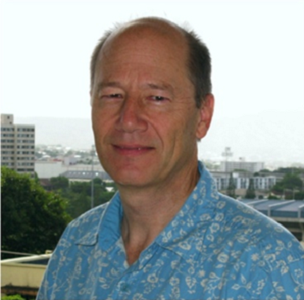 Bruce Howe
Profesor de Investigación, Universidad de Hawaii en Manoa

Bruce Howe es presidente de la fuerza tarea internacional conocida como "SMART Cable Initiative" (Science Monitoring And Reliable Telecommunication, o Monitoreo de la Ciencia y Telecomunicaciones Confiables) para incorporar sensores en los sistemas comerciales de cable de telecomunicaciones submarinas transoceánicas - habilitando Internet como conocemos - para el clima, la circulación oceánica y monitoreo del nivel del mar y alerta de tsunamis y terremotos. En la estación ALOHA, a 100 km al norte de Oahu, Bruce y su equipo instalaron y operaron el Observatorio de Cableado ALOHA, el nodo de Internet más profundo del planeta, a 4728 m de profundidad de agua.
Anteriormente, después de obtener los títulos de ingeniería y oceanografía en la Universidad de Stanford y en la Universidad de California en San Diego, respectivamente, trabajó en el Laboratorio de Física Aplicada de la Universidad de Washington y durante los últimos once años en la Universidad de Hawai, en el Departamento de Ingeniería Oceánica y de Recursos.